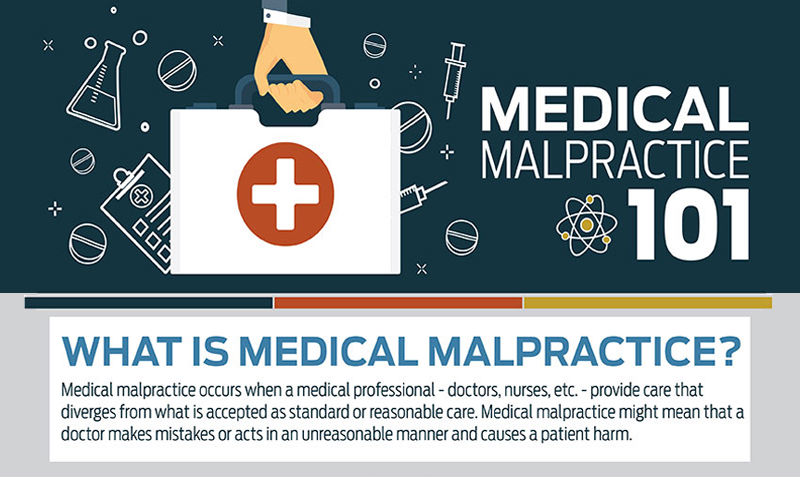 Understanding medical malpractice and why it happens can be difficult. This post and infographic will hopefully help. When we go to a doctor or hospital, we put our faith in the ability of our doctors to provide us with a certain level of skilled health care. We do so because one of the most fundamental lessons medical professionals learn in school is represented by the Latin phrase "primum non nocere" – first, do no harm. Nonetheless, mistakes are often made in the medical field which cost patients dearly. A Johns Hopkins study estimated that over 250,000 people died every single year due to medical error.
What is Medical Malpractice?
Mistakes and complications are common in medical treatment. But when doctors, nurses and other healthcare professionals fail to adhere to an established standard of care and that leads to injury, illness or death, it is a case of medical malpractice. Malpractice can take place at almost any stage of medical treatment — from the examination room to the delivery room to the operating table. Individual health care professionals can be found negligent, as well as hospitals themselves. There are many types of malpractice that we'll look at in the following but, first, let's look why it can happen.
What Goes Wrong?
There are a number of causes of medical error, ranging from systematic errors to individual mistakes made by doctors. A few common reasons for medical error include:
Overworked Doctors/Understaffed Facilities. – When a medical staff or facility is stretched thin in terms of capacity or time constraints, mistakes are more likely to happen.
Distracted or Inattentive Doctors. – Whether too busy or simply not paying attention, a doctor is more likely to provide unreasonable and potentially harmful care to patients if they aren't focused on the task in front of them.
Communication Breakdowns. – Lack of communication between departments, doctors, nurses or pharmacists can lead to serious breaches of care that can have disastrous results for patients.
Misinterpreted Results/Directions. – Misreading results or orders, or even illegible handwriting can lead to confusion and inappropriate medical care in a facility, or in the wrong treatment or medication being ordered for a patient.
Wrong Patient/Wrong Procedure. – Sometimes medical professionals will mistake a patient's identity or order the wrong procedure, which can result in serious and potentially fatal medical mistakes.
Diagnosis Errors
Misdiagnosis and wrongful diagnosis can be critical mistakes that precipitate a series of harmful treatments and tests for patients. If the following conditions are misdiagnosed by a doctor, patients can suffer greatly as a result:
Cancer
Brain Tumors
Diabetes
Heart Conditions
Surgical Errors
Surgical errors are a common type of medical malpractice, one that can be deadly for some patients. Some examples of surgical error include:
Failure to recognize and treat surgical complications
Failure to operate when necessary
Unnecessary surgery
Misidentified patients and body parts
Objects left in the body after surgery
Anesthesia Errors
An anesthesiologist administers anesthesia according to the needs of the patient and the type of procedure that will be performed. These types of errors can be dangerous and, in some cases, fatal for patients. Here are some of the most common types of complications that can arise from administering anesthesia:
Failure to seek informed consent for anesthesia
When using general anesthesia, the doctor or nurse must breathe for the patient. Failing to ensure that the patient is breathing and getting sufficient oxygen during anesthesia is considered negligence.
When using spinal anesthesia, using the wrong drug, the wrong concentration of a drug, or using the wrong amount of a drug is negligent. It can also be negligent if a doctor doesn't prevent a patient from bleeding into their spinal canal, which can cause paralysis.
When using regional anesthesia, injuries can occur if the doctor negligently puts the needle directly into the nerve.
When using local anesthesia, allergic reactions to the anesthetic and/or skin damage can occur.
Birth Injuries
Mistakes made during the birthing process can have effects that last for the rest of a child's life and impact the lives of those around them in significant ways. Some common forms of birth injury include:
Brain damage
Cerebral palsy
Fractured Bones
Erb's palsy
Skin problems
Breathing problems
Medication Errors
Taking the wrong type of medication can lead to serious complications in a patient, in addition to leaving that patient without the medicine they need to treat their condition. Medication errors can occur in many forms, including:
Negligent dosing: Overdose/underdose
Wrong drug
Drug interactions
Allergic reactions
Side effects
Pharmacy errors
Failing to cross-reference medication
Institutional Failures
Nursing Home Injuries
Nursing home abuse can also be a form of medical malpractice. A nursing home staff is responsible for the well-being of their patients and residents. There are many ways in which a person can suffer from nursing home abuse, including:
Neglect
Failure to supervise residents or staff
Bed sores or decubitus ulcers
Broken bones
Malnutrition and dehydration
Bruises
Sexual abuse
Physical assault by staff
Verbal abuse
Intimidation or bullying
What Medical Malpractice Means for Patients
When a patient is subjected to medical error, the results can be catastrophic. That can mean:
The worsening of a condition
New injuries or illnesses
Costly treatment(s)
Pain and suffering
Wrongful death
There is a lot of information here and it can feel a bit overwhelming, especially if you are dealing with a difficult loss or injury. Understanding medical malpractice is not very easy, so consulting an experienced attorney can help. Attorneys familiar with medical malpractice claims can provide victims with strong support and guidance throughout the process. They can help you trace the chain of events in your care, speak with experts who can identify errors and calculate the damages that you have suffered as a result of the mistake. Most attorneys who take medical malpractice cases take them on a contingency fee basis.  This means you don't pay any attorney fees upfront and they only get paid if they bring your case to a successful outcome.