Medication Errors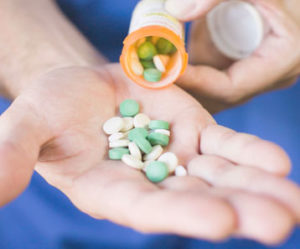 Medication errors account for a good percentage of medical malpractice cases in Illinois and elsewhere. So much medication is prescribed for patients in nursing homes, hospitals and doctor's clinics that it is somewhat surprising that even more people are not adversely affected by medication errors.
If someone you love was adversely affected when someone gave the wrong medication or mistakenly gave too much medicine, our Chicago medication error lawyers are ready to help you discover what happened and will assist you in obtaining the compensation you deserve. At Cirignani Heller & Harman, LLP, we have attorneys with both legal and medical training. We take all types of medical malpractice claims for clients throughout the Chicagoland area of Illinois.
Contact us online today
to speak with one of our experienced Chicago medication error lawyers about your prescription error claim.
Helping Victims of Medication Errors Throughout Illinois
Medical malpractice involving medication errors can happen in all kinds of ways, including:
Negligent dosing: Overdose/underdose
Overdosing and underdosing can occur due to physician error in prescribing, a pharmacist error in labeling or dispensing, or a nurse error in administering. Some of the medications commonly involved in serious dosing injuries include: anticoagulants (blood thinners), antibiotics, cardiac meds, cancer meds and steroids. Dosing injuries are seen frequently in infants and young children where safe doses are either unknown or need to be based on the size of the child. Too much can poison a patient; too little won't cure what was intended to be cured.
Wrong drug
Like dosing errors, use of the wrong drug can occur due to physician error in prescribing, a pharmacist error in labeling or dispensing or a nurse error in administering. Pharmacists can misread a doctor's handwriting, particularly when there are multiple drugs with similar names (Amoxicillin, Ampicillin). A nurse may give the medication intended for the patient in 268A to the patient in 286A. Wrong drug errors create two types of risks: first, the beneficial effect of the intended drug is not obtained; and second, the wrong drug may cause serious injury to the patient.
Drug interactions
Many drugs impact the effect of other drugs. These drug interactions can be dangerous. One of the riskiest drugs for interaction effects is Coumadin. Many drugs and even foods can affect the levels of Coumadin in the blood.
Allergic reactions
One way this negligence occurs is when a patient gets a drug to which he or she is allergic. But other times, it is because of something called "cross-reactivity." Cross-reactive drugs are two or more drugs with similar chemical composition. Giving one drug from a group of cross-reactive drugs to a patient known to be allergic to another may be negligent.
Side effects
Every drug has potential side effects; but if a physician does not warn a patient about serious potential side effects, the patient does not know what to watch out for and the results can be catastrophic. In some cases, the doctor must monitor the patient with tests to look for side effects the patient can't see, like decreasing kidney function. Failure to educate a patient or to monitor can be negligent.
Pharmacy errors
Many times, a pharmacist will get a request for a certain medication and accidentally send up the incorrect medicine. A pharmacy may also send up too big of a pill container that eventually leads to the patient receiving an overdose. These errors can cause serious injury and even be life-threatening.
Failing to cross-reference medication
Too many hospitals and other medical facilities fail to properly cross-reference all of the medication that an individual is currently taking. Many medications will work fine alone, but if taken in conjunction with other medicine can have serious and harmful side effects. Proper cross-checks are critical to patient health.
Institutional failures
Health care facilities often fail to properly train their staff on the safety protocols required by law. When this happens, you and your loved ones are put at risk.
Injuries Occurring Due to Medication Errors