Fill out the form below for your free copy.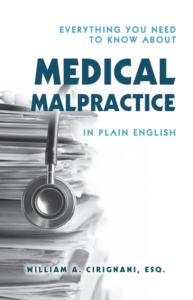 More than 400,000 people are maimed or killed every year by avoidable medical errors.
Medical malpractice is real and it's devastating.
If you or someone you love are part of that 400,000, there's a good chance you want to know why it happened but feel overwhelmed and unsure about how to do that. The internet only makes things worse, producing pages and pages of lawyers promising fistfuls of cash, bragging that they are the toughest hombre on the block, or assuring that they love you more than any other lawyer. Ugh!
So what's the solution? Read this medical malpractice book. It is your roadmap to the world of medical malpractice, written in easy-to-understand language that will give you what you need to know, when you want to know it, without pressure from anyone.
Knowledge is power—go ahead and grab it.
---