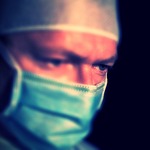 No one likes admitting they made a mistake.  It is no fun owning up to where you fell short.  In the world of medicine, this is amplified.  A recent study published in The Journal of Patient Safety found that it is the exception, not the rule that Patients who are victims of a medical mistake or injury rarely get an acknowledgment or apology.
The study was led by Dr. Martin Makary a professor of surgery at Johns Hopkins School of Medicine.  They looked at responses to a patient harm questionnaire from a one year period ending in May 2013.  While the findings are not enough to make definitive conclusions when it comes to patient harm and disclosure they serve as a great place to start a conversation about accountability in medical care.
Some of the findings:
Only 9% of the patients surveyed said the medical facility voluntarily disclosed the harm.
Most of the time when the harm was disclosed it was because the medical facility or officials were forced to.
Only 11% of those surveyed reported receiving an apology.
Over 30% of the survey participants said they were paying for follow up care related to the harm, the average cost of which is $14,024.
We have talked in the past about how we determine whether or not there are grounds for a medical malpractice lawsuit, a study like this illustrates why. In the current climate doctors and hospitals are unlikely to inform you that an error occurred. This is like driving home in the middle of the night and hitting a parked car on the side of the road. Since nobody saw you, you could just drive home and hope to avoid an increase in your auto insurance rates. In the case of medical malpractice, doctors and hospitals will default to giving little to no information as to what or even if anything went wrong in hopes of avoiding an increase in their insurance premiums. Leaving potential victims to determine on their own what happened.
Since victims are often dealing with the increased stress of adapting to their loss or injury and don't have the medical background to know what questions they should ask, they often accept the vague information provided. Challenging a hospital or doctor take accountability for and provide a detailed explanation of what went wrong would be a difficult task for most people. For someone who is dealing with the loss of a loved one or living a degraded quality of life due to a medical error, it could be next to impossible.
The most disturbing finding in this study, however, is that victims of harm are the ones who are paying the bills for someone else's mistake. Accountability for our actions is something we are taught from a young age.  It shouldn't be something that stops at the moment someone enters the medical profession.  This is the reason why attorneys in the medical malpractice arena exist, to help hold institutions and professionals accountable when they cause harm to those under their care.
Sources:
ProPublica, "The Two Things That Rarely Happen After a Medical Mistake" November 21, 2014
Journal of Patient Safety "Medical Harm: Patient Perceptions and Follow-up Actions" November 13, 2014