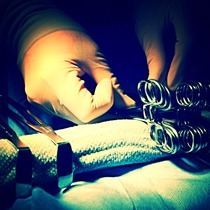 The very nature of surgery is risky without taking into account the possibility of surgical errors and/or medical negligence. The consequences of which can be very difficult for victims to cope with. Whether the consequences are physical, financial, emotional, or a combination, they can permanently affect a person's well-being.
Sadly, many of these errors are ultimately shown to have been preventable which can make matters even more upsetting for patients. Learning that a surgeon, nurse or anesthesiologist was careless or negligent in a patient's care can send the message that they simply don't value that person's health as much as they should. Now hospitals are starting to recognize the extent to which these errors affect patients — and a facility's bottom line — and are taking steps to prevent them.
According to a recent report in The Wall Street Journal, hundreds of hospitals across the U.S. are working to identify adverse events and make changes with the hope of preventing them in the future.
There are many different ways hospitals are starting to take patient care more seriously. To begin with, hospitals are working to improve error and complication reporting methods. By collecting more data, they can see how their care stacks up to other facilities and spot trends that may be negatively impacting surgical patients.
There are also some hospitals that are focused on preventing medical devices and tools from being left in a patient. In some cases, surgical patients are now required to have an X-ray immediately after an operation if a manual count of surgical tools is off.
Improving surgeon behaviors is also a priority. When a doctor exhibits disruptive behavior or is not taking his or her job responsibilities seriously, facilities are ordering anger management courses, counseling and even a loss of privileges.
There is still so much room for improvement when it comes to patient care before, during and after a surgery, but these and other steps that hospitals are starting to take can be a good start. In the meantime, patients should remember that they always have the right to protect themselves after an incident by speaking with an attorney and taking legal action. Mistakes can and do happen; victims have the right to hold the appropriate parties accountable, ensuring that our civil justice system continues to encourage this positive trend leading toward increased patient safety.
Source: The Wall Street Journal, "How to Make Surgery Safer," Laura Landro, Feb. 16, 2015