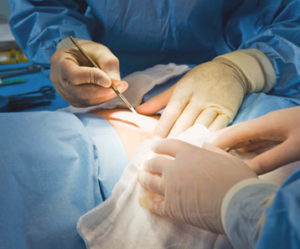 Surgeons • Anesthesiologists • Recovery Room Nurses
In medical parlance, a surgical instrument or other foreign object, like a sponge, left in the patient's body after closing the surgical wound is called "retained" as if the patients themselves purposely kept something as a memento from their surgery. This type of manipulation of the language is one way that the medical profession and the insurance industry is able to shift the focus of medical and surgical errors away from the those who commit medical malpractice.
At Cirignani Heller & Harman LLP, our Chicago surgery error attorneys have a background in medicine as well as the law — one of our attorneys is a certified respiratory therapist and two others are licensed physicians. We simply cannot be manipulated, and we don't allow our clients to be manipulated either. Contact us today to schedule a free consultation.
Integrity • Compassion • Tenacity
The surgery error lawyers at our law firm have extensive experience holding medical professionals liable for their serious surgical errors, including:
1. The failure to recognize and treat surgical complications
Surgeons may fail to recognize that the operative site has become infected or that the procedure has caused substantial bleeding or that they put a hole or a cut where one doesn't belong.
For example, men over forty routinely undergo colonoscopies, a procedure in which the colon is examined by a small camera for cancer or other abnormalities. Sometimes this procedure results in a perforated colon, an error which needs to be surgically repaired as soon as possible to prevent infection and permanent damage.
2. Failure to operate
Sometimes surgery is the only effective treatment yet it is either not done or not done quickly enough, as when a nurse doesn't tell a surgeon of an important change in a patient's condition or when a surgeon can't be found or fails to show up when called.
3. Unnecessary surgery
There are cases where surgery is performed without any reasonable justification. Examples include: removal of a colon when no test has confirmed the need, or phalloplastys (penile enlargement procedures) which are medically useless surgeries in normal men.
4. Misidentified patients and parts
Catastrophic errors have been made when patients have been misidentified or when someone has confused the right or the left side of a patient's body. Examples include: operating on the wrong patient, removing the wrong kidney (leaving cancerous kidney), transfusing mismatched blood, or implanting an incompatible organ.
Types of Surgical Errors
Infographic: Surgical Errors

Contact Us for Experienced Representation
If you have been affected by medical malpractice involving surgery errors, hospital mistakes or any other medical negligence, we invite you to contact our Chicago medical malpractice office to discuss the circumstances of your case.
Read more about birth injuries at our Cerebral Palsy and Erb's Palsy practice area pages.