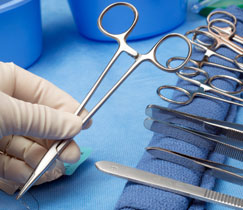 Staph infections, which can form during or following hospital stays, can be deadly. Fortunately, recent news reports and studies indicate that reported cases of staph infections are on the decline in the U.S., mainly due to hospital staff taking more aggressive preventive actions. While these efforts continue, patients can also take measures to avoid catching staph infections from medical treatment or a hospital visit, as well as seek out legal help if serious injuries occur from these types of infections.
Hospital Infections
According to data provided by the Centers for Disease Control and Prevention (CDC), almost 100,000 patients reported cases of a sometimes serious staph infection known as methicillin-resistant staph (MRSA) in 2005. Close to 20,000 people died during time spent in hospitals in 2005 after contracting an invasive form of MRSA. MRSA contains staph bacteria that are resistant to certain antibiotics. Many MRSA infections manifest as skin infections or boils.
On the Decline: Preventive Measures Taken
Researchers and the CDC together conducted a study of the most invasive MRSA cases, which infected areas like the bloodstream, lungs and bones, in nine cities between 2005 and 2008. Their findings, which were published in the Journal of the American Medical Association, identified the downward trend in these cities during this period, at a rate of 9.4 percent annually and 16 percent during the three-year period. Most MRSA infections occurred in hospitals, about 82 percent, so this was where the improvement was most seen.
To help reduce the number of MRSA cases, hospitals and staff have reinstated strict hand-washing campaigns, performed more frequent bathing of patients with antibacterial soap, and been more careful about testing patients for this infection upon admittance. In addition, better cleaning surgical tools and robotic helpers and using checklists for better due-diligence in patient care can aid in lowering MRSA infection rates.
Protecting Yourself
Patients should also look at hospital infection data and watch for lapses in cleanliness during hospital stays. People deserve clean and healing medical care, especially when treatments or surgeries in hospitals are necessary. While some ailments may come out of nowhere, infections like MRSA are highly controllable if both patients and medical personnel work to prevent them. If you are infected with MRSA or other infection as the result of a hospital visit, you may have a case of medical negligence. You should consult with an experienced medical malpractice attorney in your area immediately and begin the healing process.