Bladder Infections • Kidney Infections • Surgical Infections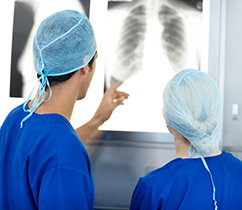 Physicians are expected to follow generally accepted standards of practice. When they fail to abide by these applicable standards, the consequences can be serious or even deadly.
At Cirignani Heller & Harman LLP, our Chicago misdiagnosis of adult infections lawyers hold medical professionals accountable for failing to proactively treat patients with bladder, kidney, surgical, and wound infections. We have successfully protected medical malpractice victims for more than twenty years. Contact us today to schedule a free consultation.
Extensive Medical Malpractice Experience
We are a unique law firm with both a legal and a medical background – our attorneys include a certified respiratory therapist and two licensed physicians. As a result, we cannot be manipulated by insurance companies, and we don't allow our clients to be manipulated either. We always take the time to clarify the legal process to our clients, and provide detailed medical explanations. When faced with difficult matters, clients need reassurance that their case is in skilled and compassionate hands.
In situations involving adult infections, timing is absolutely critical. If symptoms are overlooked and antibiotics not prescribed, the infection will continue to grow and overwhelm the immune system. For example, an untreated and undiagnosed bladder infection may gain strength and spread until it becomes difficult to cure, even with the aid of antibiotics. In fact, once an infection spreads into the bloodstream, doctors may have a hard time saving a person's life as their organs begin to shut down.
As a first step, we will carefully review our clients' medical records in-house to determine the critical steps the treating physicians may have failed to take or vital factors they overlooked. We will also examine our client's medical history to understand if they had a serious illness that should have prompted medical professionals to respond with greater diligence.
Preparing Every Case to be Successful in Tria
We begin our trial preparation from the moment you retain our services. Our firm is committed to preparing and developing compelling cases that clearly illustrate fault to a judge or jury. We will not hesitate to retain medical experts from a variety of fields and utilize the most current forms of technology in our efforts.
Our Chicago malpractice lawyers are dedicated to securing as much financial compensations as possible for medical malpractice victims. We will work with medical professionals to determine how much compensation will be needed to cover medications, surgeries, rehabilitative care, lost wages, loss of relationship and future medical needs.
Integrity • Compassion • Tenacity
Our seasoned Chicago trial lawyers are fully prepared to establish medical malpractice in cases involving adult infections. Our law firm also handles cases involving child infection cases.
Contact us today to schedule a free consultation.
Free Case Review by One of Our Chicago Doctor Attorneys