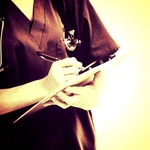 The relationship between a patient and the doctors and nurses treating that patient is a delicate one. Patients have to trust and rely on medical professionals to use their extensive training and experience, but that doesn't mean patients are okay being left in the dark when it comes to certain medical decisions.
This is why informed consent is crucial when it comes to the care people receive. Informed consent ensures that doctors explain to patients what their health condition is and what treatments are available. Patients then have the right to approve treatment and refuse treatments that they do not understand or agree with. Without the right information, patients can't make informed and educated decisions about a proposed medical procedure or plan.  If they don't have the right information and they are injured while they are treated then they may want to see if they have a medical malpractice case.
Informed consent is not simply agreeing to a treatment or procedure, it requires that the patient is provided with a reasonable amount of information so that they can decide whether to consent to the treatment or not. Before treatment a patient should understand:
The patient's current medical condition.
The reason for the procedure or treatment being proposed.
Who will be performing the procedure and their qualifications?
The risks the patient faces.
Any reasonable alternative procedures and treatments.
The chances that procedure or treatment will be successful.
The expected recovery time.
How much the procedure or treatment will cost and whether it will be covered by the patient's insurance.
In addition to this list, a patient needs to also have the chance to ask the doctor any questions that they have about the proposed treatment. They also need an opportunity to talk with their family and significant others about it before choosing to go forward.
Once informed consent is given, it does not mean a doctor and/or hospital cannot be held liable for medical malpractice. They are limited to the scope of what the patient has consented to. There is some wiggle room for a doctor to take reasonable actions to respond to an emergency that may arise during the procedure. Outside of an emergency situation, however, the doctor can't assume that the patient would have agreed to a different or additional treatment. If the doctor or hospital exceeds the scope of consent they can be held accountable for medical malpractice just as if they fail to perform the procedure properly.
When it comes to an actual medical malpractice lawsuit the lack of informed consent must be connected to a patient's injury. The victim and their legal team must be able to show that if the patient had been properly informed that they would not have agreed to the procedure or treatment and that the injury the victim experienced would not have occurred.
Informed consent plays a crucial role in the doctor-patient relationship. While patients do not have the benefit of years of medical school and professional experience, they should expect that their doctors will discuss their health and care options by giving them the necessary information.
People who have questions about medical informed consent and how it may affect or has affected their care should remember that speaking with an attorney is always an option. Legal representatives can explain people's rights regarding medical care and discuss what the next steps may be for exploring legal action.