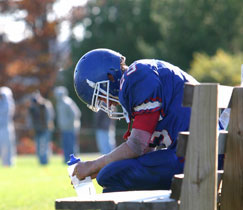 With several high school and collegiate athletes dying from head injuries sustained during football games this last year, concern over head injuries and concussions in athletes has become more prevalent around the country. Part of the renewed focus on athletic head injuries is a better understanding of the symptoms and ability to diagnose the condition.
Signs of a Concussion
It is often assumed that athletes suffer concussions when they lose consciousness or have difficulty remember or repeating things. However, according to doctors at the Mayo Clinic, most people who have a concussion do not lose consciousness or black out; some people will have a concussion and not even realize it. Symptoms of a concussion include:
Headache
Fatigue
Ringing in the ears
Vomiting
Nausea
Difficulty speaking
There are also symptoms that may not appear until well after the injury initially occurs, including irritability, difficulty sleeping and memory or concentration problems. Parents, friends and teammates should not only be aware of these symptoms, but also watch the athlete closely in the hours following a hard hit in a game.
Danger of Concussions in Young Athletes
According to a recent study by the Center for Injury Research and Policy at Nationwide Children's Hospital in Columbus, Ohio, over 40 percent of high school athletes return to action prematurely after suffering a concussion. These statistics include 16 percent of football players who play the same day after losing consciousness.
According to a report in the Chicago Tribune, nearly 50 percent of concussions in high school football go unreported. Second Impact Syndrome (SIS) makes this statistic particularly troubling. SIS is a condition that reflects the compound effect of head injuries and can results in a serious permanent brain injury or even death. Younger, less developed brains are at a much higher risk of SIS according to the Ohio Children's Hospital Study.
New Rule on Head Injuries for Illinois High Schools
In an effort to alleviate pressure on high school athletes to return to games following a hard hit, the Illinois High School Association has adopted a new rule concerning concussions which will be effective this year. The rule states that if an official, coach or trainer suspects that a player has suffered a concussion, that player can be removed from the game. The player can only return if cleared by a medical professional. This rule applies to all sports and players.
Athletic Trainers: Duties Owed to Their Student Athletes
When a young athlete receives a head injury in a game, the first person they generally come in to contact with is the school's athletic trainer. The primary responsibility of the trainer is to properly diagnose the condition, inform the student and parents of the assessment and any potential risks. When a trainer fails to properly diagnose a condition and an injury is caused by that act, the trainer may be held liable for those injuries.
Whenever young athletes are engaged in sports, it is important for their parents, friends, trainers and teammates to be able to recognize the signs of a concussion and be aware that even seemingly small bumps on the head can have lasting effects.