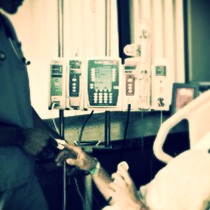 Pain is one of the major reasons a person goes to see a doctor. It shouldn't be a surprise that the way in which pain is managed or controlled is a big factor in how patients rate their healthcare experiences. Dermot Maher, MD along with a group of researchers surveyed over 2900 surgical patients and he said "Patients consider a number of factors when evaluating physicians and hospitals. One of the most influential factors is a patient's perception of pain." He further noted that especially after a surgery that the pain a patient feels "has the potential to negatively impact overall satisfaction if not optimally managed."
Hospitals, aware of the relationship between pain management and patient satisfaction, are looking for ways to improve. One practice that has been adopted is Patient-Controlled Analgesia (PCA). This involves using pumps that can be programmed to deliver specific doses that can be triggered by the patient rather than requiring a nurse to administer them. The patients and the nursing staff both realize the advantages of this, especially nurses who are under a lot of pressure to keep up with the pace of efficient operating room turnover. PCA does, however, present some risks to patient safety. The risks are due in large part to a lack of consistent safety procedures followed by hospitals nationwide and were the subject of the 1st National Survey of Patient Controlled Analgesia Practices.
Through this survey they found that the benefits of PCA could be realized with substantially reduced risk if hospitals would follow 8 steps:
Consistently assess clinical risk factors before an operation, like identifying patients who have not been on opioid medications before.
Individualize the alarms for the patient, double-check them, and continuously use electronic monitoring.
When transferring patients from the operating room to recovery make sure all patient risk assessments and information are included in the hand-off communication.
Verify nurse-to-nurse that continuous electronic monitoring is used and double-checked.
Double check dosing, pump parameters, and continuous monitoring settings.
Identify in the postoperative orders when a patient's risk-factors should be reassessed.
Include daily lead changes and handoff communication in the postoperative order to decrease nuisance alarms.
Continue electronic monitoring with oximetry and capnography until there is a specific order and a complete patient assessment with no signs of respiratory compromise.
In presenting the findings of this survey at the annual conference of the Association of periOperative Registered Nurses (AORN) Lynn Razzano. R.N. emphasized how important it is that hospitals follow established best practices to keep patients safe when in their care: "Perioperative nurses emphasized to me that they should be the identified patient advocate for safety and ensure all patients receiving opioids are ordered continuous electronic monitoring. Although the perioperative pace is hectic and there is tremendous pressure to conduct quick operating room turnover, perioperative nurses can never forget that their commitment to the patient does not end following surgery."
You can read the full findings of the survey here: First National Survey of Patient-Controlled Analgesia Practices