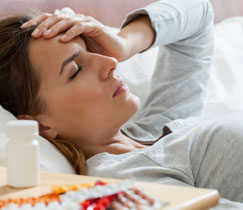 Prescription drugs are meant to help and heal people, not harm and hurt them. When reactions to pharmaceutical drugs occur, whether from overdose or underdose, allergies, drug interactions, side effects or incorrect prescriptions, patients experience medication errors. According to recent study findings, millions of people, mainly elderly and highly medicated patients, seek treatment for adverse drug events each year. To counteract this trend, doctors must work more with patients and patients need to report medication errors.
Clarifying the Problem
People endure the effects of medication errors in different ways. Some patients sustain physical injuries from taking certain prescription drugs. Known as an adverse drug event, the harm to the patient includes an adverse reaction to a drug or its dosage, as well as from reducing or discontinuing a drug. Adverse drug reactions, however, encompass a patient's negative and unanticipated response to taking a drug for its intended purpose and at an acceptable dosage. A recent study tracked the amount of adverse events treated annually.
Adverse Drug Reaction Study
Recently, medical researchers conducted a review of national medical care data to estimate how many patients were treated for adverse drug events each year between 2005 and 2007. Led by Dr. Urmimala Sarkar, lead author of the report, the statistical findings were published online in Health Services Research. Although researchers could not access information about which medications caused the adverse drug events or determine whether they were preventable, they could discern the alarming frequency at which they occurred.
Report Findings
The study found that around 4.5 million visits a year, mainly to doctors' offices, are for adverse drug events. Close to 400,000 of these patients are admitted to hospitals for further treatment. People who were 65 year or older and who took six or more drugs at a time were most at risk to experience serious medication problems. Even adverse drug events account for one-half of one percent of all walk-in doctors' visits, the number of visits exceeds medical treatment sought for common conditions like strep throat and pneumonia.
Maintaining Accountability
According to Dr. Sarkar, and based on the study's findings, it is time to start thinking of adverse drug events, or medication errors, as a common problem. Doctors need to prioritize drug reviews and discussions during visits and ensure that their patients comprehend and follow directions for taking prescription drugs, as well as regularly check patient records for drug incompatibilities with other drugs or diseases. Patients need to be diligent about asking questions, reading and following drug directions and reporting adverse reactions to drugs.
If you recently experienced a reaction to a prescription medication, or regularly suffer negative side effects to pharmaceutical drugs, you may be a victim of medication error. For more information on your unique case, contact a local medical malpractice attorney to discuss your legal rights and options for compensation and reporting your adverse drug event.