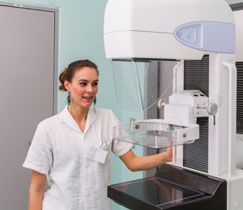 A retrospective study based on the records of breast cancer patients has found that the revised guidelines of the U.S. Preventative Service Task Force (USPSTF) have a decreasing effect on survival rates.
USPSTF revised their recommendations November 2009 to only advise annual mammograms for women in their forties if they have a history of disease or are at a greater risk for breast cancer.
The guidelines also changed for women ages 50 – 74 to only biennial screenings.
The study found that mammography can detect tumors that are smaller and less developed than tumors detectable by a physician or self exam. Without the tests, it is possible that the physicians may be unable to adequately diagnose the cancer. The earlier that breast cancer is diagnosed, the better the outcome.
The study is based on the medical records of 1,581 women treated for breast cancer between 1998 and 2008. Women ages 40-49 made up 20 percent of the study group; 47 percent were diagnosed through mammography and 53 percent were diagnosed by a physician or self exam.
The mean tumor size at the time of diagnosis for women diagnosed with mammography was 20mm in diameter. In comparison, tumors found through other means were 30mm in diameter at the time of diagnosis.
Jayme Takahashi, M.D., a fourth year radiology resident at the University of Colorado in Denver, recently reported findings of a significant decrease in physician screening recommendations for breast cancer patients after the USPSTF released their revised guidelines.
Dr. Takahashi's findings are based on survey responses from 303 primary care physicians. The survey responses show that physicians recommended annual mammograms for women ages 40-49 56 percent of the time before the revised guidelines were released.
Now, with the new USPSTF guidelines, physicians recommend annual mammograms for women in their forties only 20 percent of the time. A total of 62 percent of physicians changed their advice, which led to a decrease in the number of women who may have had the life-saving screenings.