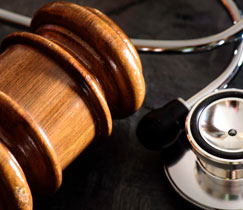 Recent statistics estimate that medical malpractice cases add anywhere from $30 billion to $55 billion to national healthcare costs each year. This is around 2.4 percent of the yearly healthcare budget in the U.S. Many states have attempted to curb these costs through legislative tort reform and damage caps. New York, however, received a federal grant to pilot a medical malpractice settlement program aimed at promoting patient safety while reducing litigation costs. If proven successful, other states may soon adopt this method.
Medical Malpractice Costs
According to the Journal of the American Medical Association, medical negligence is to blame for around 225,000 deaths per year in the U.S. Millions more are injured annually by medical errors. In addition to costing anywhere from $30 billion to $55 billion each year, medical malpractice litigation costs the healthcare system by increasing insurance premiums for doctors and medical insurance and care expenses for patients. States struggle with tort reform litigation to shorten trials and cap damage awards, which directly impacts victims.
Settlement Program in New York
Under a $3 million federal grant from the Agency for Healthcare Research and Quality, some New York courts have been piloting a medical malpractice settlement program that aims to promote patient rights and lower litigation costs. Medical malpractice cases, mostly against city or private hospitals, are assigned early on to a judge trained in medical issues. The judge then schedules and actively directs negotiations during settlement conferences with only the opposing attorneys, who must have authorization to settle from their clients.
New York state and court officials familiar with the program say that judges involved in the settlements resolve about 20 percent more cases than judges involved solely in litigation. In addition, this process provides injured victims with quicker payouts, because of shorter litigation cycles, even though they are lower than jury awards. One major success of the program is $66 million in annual medical malpractice litigation savings. Administrators hope that other states look to copy this model, which could save them over $1 billion a year.
Impact to Victims
While the medical malpractice system is not ideal, it does allow injured patients, or the family members of those killed, to achieve higher damage awards and maintain control over how their cases proceed. However, on top of experiencing injuries or deaths, medical malpractice victims or their families must typically endure a long, arduous litigation process before reaching acceptable settlement amounts or jury awards. The New York model for getting judges involved sooner to negotiate and encourage malpractice settlements both supports victims by shortening the process and paying them sooner and saves all parties, and the courts, time and money in attorney's fees and general litigation costs. While this is still a pilot program, more states may adopt this process in the future.
If you or your loved one were the victim of medical negligence and you want to know more about suing for your or your family member's injuries, contact a local medical malpractice attorney for advice. A lawyer experience in medical malpractice litigation can help you identify the best options for your case, as well as discuss your legal right to compensation.