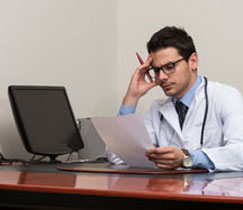 Medical experts are used to define how a doctor's actions are negligent in a medical malpractice lawsuit.
Nearly every patient has who has suffered an unexpected negative medical outcome has questions regarding the actions of the doctor involved. As patients, we do not have the medical training necessary to know whether proper procedures were followed or whether a doctor did not live up to the standards of his or her specialty.
That is why expert witnesses play such a vital role in medical malpractice lawsuits; they define how a doctor's actions are negligent. Before we discuss further the role of an expert witness, however, we must first define negligence in a medical malpractice case, which is the standard by which a jury will determine if a doctor or hospital is liable to pay you for the injury it caused you.
Doctors must perform negligently according to the standards of their specialty
In order to recover on a medical malpractice lawsuit, you must show that your doctor did not meet the standards of his or her specialty. In other words, doctors are held to certain standards. If your doctor made a mistake or otherwise acted in a way that doctors are not supposed to act, then he or she was negligent.
There are four elements you must prove to show that your doctor was negligent:
Your doctor owed you a duty of care
Your doctor did not live up to that duty
You were injured
The doctor's failure caused the injury
While these seem straightforward, the last three can be difficult to prove at trial (as the plaintiff, you must prove all elements in order to win your lawsuit). For example, even if your doctor failed to diagnose you correctly, he or she is not liable if other doctors may similarly have failed to diagnose, or the misdiagnosis cannot be proven to have caused you more injury than you otherwise would have suffered because of your medical condition.
What a legal expert will do at trial
In a medical malpractice lawsuit, each side will have medical experts who will testify as to whether the doctor's actions (or failure to act) qualifies as negligent conduct. The expert witness will be important, as he or she must educate the jury regarding what the doctor should have done and why. Medical experts must also highlight for the jury how your doctor's negligence harmed you.
What makes a good medical expert?
There is no single rule as to what makes a good medical expert. Certainly, if your case involves a medical specialty, you will need to hire an expert within that area of medicine. Degrees from esteemed universities, the ability to clearly communicate complex ideas and familiarity with court procedures also help.
How does a medical expert affect my case?
Your attorney should be able to retain certified medical experts who are capable of providing clear and compelling information to the jury if your case goes to trial. Medical experts can also help you understand what happened to you and why you received further injury after your medical care. With very little exception, medical experts on each aspect of your case must be identified to the court before your case can go in front of a jury. In addition, good experts with strong opinions can help a case settle before a trial takes place.