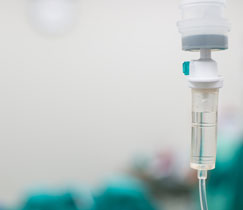 Vulnerable ICU patients are often receiving the wrong medicine or not the right amount. In fact, according to the Society of Critical Care Medicine, 80 percent of the serious medical errors reported in ICUs are medication errors – making medication errors in critical care units frequent and dangerous.
Medication errors cause ICU patients to be more susceptible to infections, like Clostridium difficile. C. difficile, or C. diff, is a bacterium that can cause a wide variety of symptoms from abdominal cramping to inflammation of the colon. C. difficile most often occurs in hospitals and typically after a patient has been over exposed to antibiotics.
The Centers for Disease Control and Prevention have reported that the occurrence of, and deaths resulting from, C. difficile are at "historic highs."
The best way to prevent the infection is to limit the amount and duration of the antibiotics ICU patients receive.
Detecting Medication Errors and Reducing Infection
According to Sandra Kane-Gill, Pharmacist and Associate Professor of Pharmacy at the University of Pittsburg, strategies to better detect and prevent medication errors in the ICU and reduce the high rate of infections like C. difficile, include:
Conducting targeted medical record reviews of ICU patients
Performing patient and family interviews to determine drug allergies and other drug use information specific to the patient
Directly observing real-time drug administration
Reviewing transfer summaries to reconcile medications upon admission and discharge from the ICU
Computerizing orders and using automated dispensing cabinets to identify medication errors and adverse drug events
Having pharmacists participate in the ICU to administer drugs and develop drug use protocols
Pharmacist Participation in ICUs Lowers Medication Errors
Pharmacist participation is one of the best ways to decrease medication errors and lower C. difficile outbreaks in ICUs. Pharmacists are trained and educated to recognize when a patient no longer needs an antibiotic or recommend alternative antibiotics that will not contribute to infections. Pharmacist involvement in ICUs is increasing but is generally limited to larger hospitals and even then pharmacists are generally not available on a twenty-four hour basis.
If you or a loved one has been injured due to a medication error, contact an experienced medical malpractice attorney in your area to understand the options available to you.