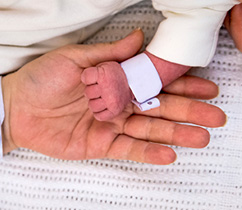 Over 2 million people in the United States acquire preventable infections while staying at a hospital, according to professionals with the Children's Hospital of Philadelphia. Even more sobering, premature infants in the neonatal intensive care unit (NICU) are at an increased risk for contracting infections due to their immature immune systems. Some studies find over 10 percent of hospital's youngest patients suffer from NICU-acquired infections.The dangers of exposure to infections within the hospital and potential for becoming a victim of
medical malpractice
are often spotlighted in the media. Most recently, the story of a young pregnant woman from Nevada is bringing the public's attention to the risk of exposure in hospitals. While the mother was very ill she gave birth to premature twins. Shortly after giving birth the mother died. Medical professionals were unsure of the reason for her illness until after conducting an autopsy, which revealed the presence of tuberculosis. Presence of the airborne disease, thought by many to be eradicated in the United States, was also found in both of the woman's daughters. One of the young twins died before the results of the test were known, and the other died just a month after birth, officially succumbing to tuberculosis.Although the woman did not contract the disease in the hospital, she did bring it with her and potentially exposed countless other patients and physicians. In an attempt to contain the disease, the hospital enlisted the help of the Centers for Disease Control and Prevention (CDC) to manage exposure. State officials and the health district noted with the Washington Post that measures were taken out of an "abundance of caution" and that the agencies were fairly certain other infants would not develop the disease.
The story serves as a cautionary tale, providing an educational opportunity for patients. Unfortunately, healthcare associated infections continue to be a problem in the United States. Contagious diseases can be present in any hospital, any department at any time. Physicians can take proactive steps to help reduce the risk of transmitting these diseases through the following practices:
Hand hygiene. Arguably the most important step in reducing transfer of diseases in hospitals, washing hands reduces the number of organisms present on a provider's hands before he or she begins an exam or procedure.
Catheter care. Patients at the NICU are at particular risk for diseases that develop around catheter use. These young patients often require catheters for extended periods of time and may also need urgent insertion and frequent access. These conditions can increase the risk of catheter related infection, making it particularly important for medical professionals to exercise caution and best practices around a catheter in a neonatal patient.
These are just two areas of care within the NICU that can lead to transfer of diseases. If you or a loved one experienced an infection while staying in a hospital NICU or other department and suspect a medical professional may have negligently exposed you to a disease, compensation may be available. Contact an experienced medical malpractice attorney to discuss your situation and better ensure you receive the compensation you are entitled to.