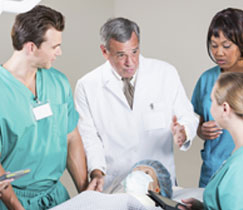 What information a hospital can keep private about its credentialing process for physicians is before the state's highest court.
When a doctor causes harm to a patient, the injured patient understandably has many questions. How did this happen? Who is responsible? What could have been done differently?
While there is no guarantee on any medical procedure, there are certain standards by which physicians and hospitals must conduct themselves. One of the most basic requirements is that a hospital ensures a physician is qualified and competent to fulfill his or her job duties. If a hospital does not ensure a doctor it allows to perform certain work is qualified, then the hospital is liable for any damages that physician does to patients.
This is called "negligent credentialing" or "negligent privileging." Doctors and medical professionals are highly specialized, and no doctor can capably do all medical procedures. As an example, if a pediatrician with no other training ended up performing heart surgery, it would be negligent privileging, and the hospital would be legally responsible in a lawsuit if the heart surgery went poorly.
How can a patient know if his or her doctor was qualified?
One of the biggest obstacles in any medical malpractice case is "discovery." Discovery is the portion of a lawsuit in which each side gathers information before trial. In a medical malpractice case, this involves gathering expert testimony from other physicians, obtaining patient records, and getting the details of the negligent actions that caused injury.
Hospitals and doctors often fight discovery requests tooth and nail. They are very reluctant to disclose information for fear of revealing negligent actions on the part of the hospital or physician. This means that often, the most important part of a medical malpractice lawsuit occurs during discovery.
In the case before the Illinois Supreme Court, the issue is whether the state's Data Collection Act and the Health Care Quality Improvement Act allow a hospital to refuse to give over documents regarding physician credentials. The case arose after a doctor at the hospital allegedly botched a gallbladder surgery that ended up causing significant problems for the patient
The hospital, in refusing to turn over the information, argued that the information was "privileged," meaning that it could not be obtained by the other side in a lawsuit. Both the trial court and the Illinois Court of Appeals, however, ordered the hospital to turn over most of the records. The hospital appealed to the Illinois Supreme Court, which will hear the case in the coming months. A final decision is not expected for some time.
Significance of the case for Illinois medical malpractice victims
How does a hospital determine that a doctor is qualified? What information does a hospital have to release about their doctors' credentials? These are important questions currently before the Illinois Supreme Court.
In the case, both the hospital and the doctor are defendants, meaning both could be responsible for paying for the patient's lost wages, additional medical expenses, and pain and suffering. For injured patients, getting to the bottom of what caused the error is an important part of a medical malpractice lawsuit, as is holding everyone who caused the harm responsible.
At Cirignani, Heller & Harman, our attorneys have experience helping patients understand what went wrong, who is responsible, and aggressively fighting for patients' rights. If you or a loved one suffered from medical malpractice, contact our office to discuss your legal options and rights.
Keywords: Illinois Supreme Court, medical malpractice victims, Heller & Harman, physicians