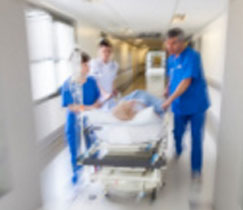 A recent case held that a hospital could waive its liability for medical malpractice through a consent form given to a legal guardian in the emergency room.
A recent case out of Will County, Illinois shows how hospitals attempt to limit their legal responsibility for medical malpractice.
Anyone who has ever stayed at a hospital knows it can be a chaotic place; an emergency room even more so. For patients who wind up in the emergency room, there are likely several pressing concerns. None of them include determining if the doctor treating patients is an employee of the hospital or an independent contractor.
But according to Illinois law, patients have to proactively protect their rights, even during medical emergencies. Hospitals routinely attempt to have patients waive the hospital's legal responsibility for medical malpractice at a time when patients are unlikely to care about anything but trying to recover. One way hospitals avoid having to pay for medical negligence is by shifting all the legal responsibility to doctors who practice at the hospital as independent contractors.
Hospitals use doctors who they do not employ
Hospitals in Illinois routinely give doctors the right to practice in the hospital without the doctors actually being employees of the hospital. Instead, doctors have "floor rights" to practice medicine. The hospital and doctor work out an alternative pay arrangement, with the doctor being an independent contractor – not an employee.
This can be troubling to patients, who want to know whether the doctor they see at the hospital is an employee or not. In addition to medical concerns, however, patients also need to watch out for their legal rights in such a situation.
Under Illinois law, hospitals are liable if a doctor employed by the hospital commits medical malpractice. Even if the doctor is an independent contractor, if a patient can reasonably assume that the doctor is employed by the hospital, the hospital is liable.
After all, legal maneuvering shouldn't absolve the hospital of any responsibility. The legal theory behind this is called "apparent agency." Apparent agency means that if a hospital "holds out" its doctors practicing as if they were employees, then they legally are employees in a medical malpractice lawsuit.
Recent case shows how hospitals are avoiding legal liability
But hospitals are finding a way around this legal responsibility. A good demonstration of this came in a recent decision out of the Illinois Court of Appeals. The decision, issued March 31, 2015, held that a hospital legally avoided responsibility for negligence by asking patients and legal guardians to sign a consent form.
The case arose in Will County (Gore v. Provena Hospital). The facts were these:
A mother wanted her son, who suffered from cerebral palsy, to be transported to Silver Cross Hospital after he began experiencing complications related to his condition. Silver Cross was where her son's pediatrician practiced. The paramedics deemed it an emergency and instead took the son to the closer hospital, Provena.
Her son was seen by a doctor and dismissed shortly afterwards from the hospital. The mother was asked to sign a consent form acknowledging the doctors who treated her son were not affiliated with the hospital. After her son was released, he developed severe and permanent complications. She later sued the doctor and the hospital for medical malpractice.
In its decision, the judges determined that a waiver absolved the hospital of any liability. Her son was transported to a hospital she did not want to go to, was experiencing a critical medical condition, and her minor son arrived at the hospital in the ambulance, while unconscious, without his mother. Still, by virtue of having her sign a consent form after she arrived, the hospital was able to avoid legal responsibility for medical negligence.
This case goes to show that when faced with medical malpractice, patients must do everything in their power to protect their legal rights.
Keywords: Ill,hospitals,medical,responsibility,malpractice,legal,liability,doctors, patients,Court.