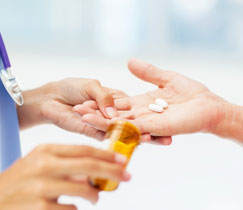 Many people are aware of the dangers that opioid painkillers such as oxycodone pose to those who use them. People can easily become addicted to them or overdose on them, so the government regulates these medications heavily. For a long time, medical professionals did not view Vicodin, a mixture of acetaminophen and hydrocodone, to be as dangerous as oxycodone – even though hydrocodone is also an opioid. In the face of mounting pressure to tighten restrictions on Vicodin, a Food and Drug Administration advisory panel voted in January 2013 to place more controls on the medication.
Widespread use
Hydrocodone is widely-used in the U.S., accounting for 99 percent of all of the hydrocodone consumption in the world. Doctors in the U.S. write more prescriptions for hydrocodone than for antibiotics or the leading heart medications. Because many health professionals saw little risk from hydrocodone, general practitioners and dentists prescribed it for patients to ease pain and put few restrictions on its use.
Public safety officials have become alarmed, however, at the growing number of overdoses and fatalities associated with prescription drugs. According to the Centers for Disease Control and Prevention, prescription drug overdoses have tripled in the U.S. since 1990, and prescription drugs now kill more people each year than heroin and cocaine together.
Tighter controls
The FDA has resisted changing the classification of hydrocodone up to this point, believing that it would drastically limit the access to pain medication that thousands legitimately need. However, many believe that the FDA will follow the advisory panel's recommendations and change the classification of hydrocodone from a Schedule III narcotic to a Schedule II drug. Doing so would place it under the same classification as other commonly-abused prescription medications like oxycodone and fentanyl.
If hydrocodone becomes a Schedule II drug, patients will get fewer pills at a time and have more difficulty obtaining refills. Pharmacies will have to follow the stricter procedures for handling and storing the drug that they employ for other Schedule II drugs.
Talk to an attorney
Patients rely on doctors and pharmacists to give them medications that will help them – not harm them. When doctors are careless about the medications they prescribe, or the doses of medications they give patients, there can be disastrous results. If a doctor does not take the time to investigate a patient's history before prescribing addictive painkillers, the doctor could be setting the patient up for disaster. If the doctor does not investigate adverse interactions with other medications a patient takes when prescribing drugs, the patient could be at risk for complications.
If you have been injured by a medical professional's medication error, talk to a seasoned medical malpractice attorney with a proven record of success in helping patients obtain compensation for their injuries.