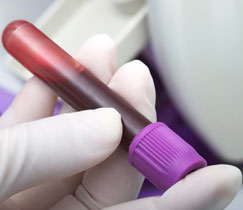 Human error can result in inaccurate lab work.
Doctors and medical professionals test blood samples for a variety of purposes. Lab tests can determine how much blood thinner to give a patient who has just had a heart attack, for example, or to diagnose cancer. One of the most important parts of an annual checkup is the blood sample taken during your routine office visit, which detects for common conditions.
Lab tests are integral to the practice of modern medicine.
However, the results of one blood test, particularly if it is unexpected or indicates a potentially serious condition, should not necessarily be taken as the last word. The results of a single lab test can be misleading.
Regulation and accuracy on lab work varies by lab. Talk to your doctor about unexpected results.
Most blood samples are shipped to independent labs to be analyzed. Under federal law, if a lab only performs certain "routine" tests, they do not receive oversight from federal regulators, which can lead to an increased likelihood of mistakes. According to the investigative report by the Milwaukee Journal-Sentinel, even inspected and regulated labs make mistakes involving:
Expired products used to screen for cancer
Blood samples or donations not kept refrigerated
Incorrectly labeled samples
Switched patient samples
A lack of quality control on the accuracy for tests on blood sugar, herpes and genetic defects
Consult with Our Attorneys
Contact us to begin your Free consultation with our medically-trained attorneys.
Potentially millions of lab mistakes occur each year. A proactive approach can help lower your risk for misdiagnosis.
It is estimated that seven to ten million patients receive an inaccurate blood test result annually.
Approximately 35,000 labs run high complexity tests. Many more run routine tests and are not subject to inspection every two years by federal regulators. In 1988, Congress passed a law to lower the costs of lab tests by decreasing federal oversight. "Waived" tests are meant to be so easy mistakes are a very small possibility. Yet mistakes occur even for waived tests. For example, some lab technicians may not follow directions for tests, or may incorrectly assume slight deviations will have no effect on the results of a given test.
In 1988, only eight blood tests met the "waived" criteria. Now, over 3,000 such tests are performed without oversight.
Reducing Inaccurate Blood Test Results: How to help improve accuracy on your blood test results
Patients have legal rights and a say in their care. If you have received blood test results that are unexpected and/or inaccurate, the following steps can help you ensure the results are accurate:
Talk to your doctor. If your lab results are unexpected or are different than historically normal for you, talk to your doctor about what this might mean. Ask specifically if there could have been a mistake or if the results might indicate more than one medical condition. Your doctor may be willing to send another sample to a different lab.
Research the medical issue in question. While you do not want to diagnose yourself, various resources can help you speak about your symptoms to your doctor. In addition, it helps to understand what lab test results mean. If how you feel or your symptoms seem at odds with your diagnosis, a second opinion may help.
Get a second opinion. For any serious diagnosis, or if you feel your doctor is not taking your symptoms seriously, you should feel comfortable asking for a second opinion. It is not rude or unnecessary to ensure you are diagnosed accurately. When it comes to your health, doctors understand you may want a second opinion, and many actively encourage patients to get a second opinion for serious conditions.
Looking for More Information?
Download our eBook "Understanding Medical Malpractice in Plain English"
DOWNLOAD

YOUR COPY
Modern medicine is fast-paced and driven by cost considerations. As a patient, it helps to be reminded that we have rights and the ability to help improve our own health. And, if doctors, hospitals and others do act negligently, we have the legal right to hold them accountable.