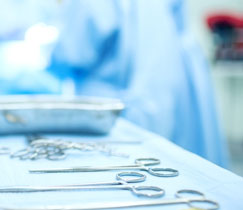 Veterans of the armed services being treated at a veterans' hospital in Missouri didn't expect anything less than clean and competent care. Yet nearly 2,000 veterans were stunned when they received letters from John Cochran VA Medical Center in St. Louis informing them they were at risk for several diseases and infections, including hepatitis B, hepatitis C and HIV. The veterans, all patients at the hospital, were told that dental instruments weren't properly cleaned and anyone treated could be at risk.
Patient illness, and even death, after contracting an infection or illness from an error in a hospital has been on the upswing, according to the Consumer Union's Safe Patient Project. According to their report, more than 100,000 people die every year from hospital medical errors.
And veterans' hospitals seem to bear the brunt of the bad doctoring. Surgeries at another veterans' hospital in Illinois were suspended after a rise in patient deaths during and after surgery. Another Illinois veterans' hospital was cited in a federal report for procedures being performed without authorization, miscommunication between the staff and inadequate performances of patient death assessments. In Pennsylvania, nearly 100 veterans were given the wrong prostate cancer treatment and radiation doses at a hospital in Philadelphia.
The poor treatment has led to congressional calls for investigations into the Missouri and Illinois nursing facilities. No veterans, said legislators, should have to worry about their own safety at a hospital. Aside from legislative help, veterans do have legal recourse and can sue the U.S. government by filing a federal torts claim.
After putting their lives on the line fighting in our nation's wars, the last thing veterans expect is negligent medical care. If you or a loved one has received inadequate medical attention at a veterans' hospital, talk to an experienced personal injury attorney about your options.