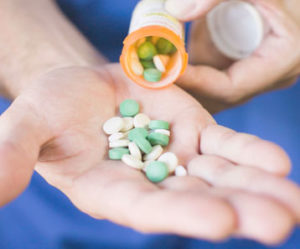 While antibiotics can be a great medication when prescribed properly, throughout the past few decades they have been over-prescribed to people who will not reap their benefits. This is essentially an overdose, and it is having an adverse effect on our nation's digestive systems.
Antibiotics kill the good bacteria in our digestive systems that allow us to process food in a healthy way. While these bacteria re-grow, overexposure to antibiotics can amplify the presence of the naturally occurring bacteria called clostridium difficile, also known as C. diff. These bacteria release a powerful toxin that leads to pseudomembranous colitis, in which the lining of the colon can become infected leading to an end-result that could be fatal.
Most cases of pseudomembranous colitis occur within hospital walls, because the bacteria can be spread between patients. This can be prevented by developing better, clearer processes between hospital staff. Additionally, if we could significantly impact the over-prescription of antibiotics, these infections could be minimized.
If You Have Overused Antibiotics, Leading to Pseudomembranous Colitis, Consult Our Experienced Chicago Lawyers
At Cirignani Heller & Harman, LLP, our Illinois pseudomembranous colitis attorneys work exclusively in medical malpractice cases. The range and complexity of the cases we handle varies greatly. This gives us the strategic edge necessary to pursue the best possible results for our clients. We connect with our clients, offering personalized, compassionate representation while striving to make lasting changes in how the medical profession operates in its day-to-day processes. Prevention is the best cure.
Contact Cirignani Heller & Harman, LLP, for a Free Consultation
Contact us or call (312) 346-8700 for a free consultation. We function on a contingent fee basis — if we cannot win your case, we will not collect attorney fees.