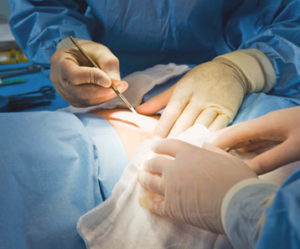 Operating room fires should never occur considering how preventable they are, yet they continue to happen at alarming rates throughout Chicago every year. Simply put, ignition sources, such as lasers, need to be kept away from oxidizers and fuel sources, such as patients and curtains. While this should seem fairly easy, hospitals and medical staff increasingly fail to follow safety protocols.
If you or a loved one has been involved in an operating room fire in Illinois, contact Cirignani Heller & Harman, LLP. Our medical malpractice lawyers will fight to ensure that your rights are protected and that negligent behavior does not continue into the future.
Holding Hospitals Accountable for Causing Fires
The FDA has laid out very specific safety procedures that need to be followed in all hospitals throughout Chicago and the United States. When these protocols are ignored by medical professionals, serious injuries occur from out of control fires. Some causes of these fires include:
Oxygen sources: Oxygen canisters, room air and nitrous oxide
Ignition sources: Lasers, fiber optics and ESUs
Fuel sources: Patients, drapes and cleaning agents
We have experience dealing with both pediatric care fires and adult operating room fires. No matter where your burn injury occurred in a hospital, we will assist you in making the situation right. We have the experience required to ensure that the negligent hospital and employees are held accountable for the damages they have caused.
Dedicated to Preventing Future Operating Room Fires
Bringing a medical malpractice suit against a negligent hospital can not only recover the compensation you need to pay bills and cover lost wages, but it can also help to prevent future negligence from occurring. Studies through the American College of Surgeons have shown some staggering statistics regarding hospital fires, including:
More than 2,000 hospital fires occur annually
Over 100 people are injured in those fires each year
Every year, an individual dies because of a negligent hospital fire
By finding the negligent behavior and eliminating it, we are able to help enforce the protocols that are in place to protect the safety of all patients. New claims can even lead to newer and better laws that will protect people for years to come.
Have One of Our Doctor Attorneys Investigate Your Operating Room Fire
Call our Chicago office toll free at 312-346-8700. An experienced and dedicated medical malpractice lawyer will guide you through the steps of your claim and answer any questions you may have along the way.