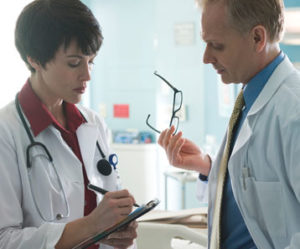 The Center for Disease Control and Prevention estimates that close to two million hospital patients every year in the U.S. develop infections that could have been prevented. It is also estimated that nearly half of these victims will die. In 2004, the sixth leading cause of death for adults in America was infection born in hospitals. Infections are only one example of damage caused by hospital mistakes.
Most of us assume that the hospital is one of the safest places we could be. We don't realize that hospitals are responsible for a shocking number of illnesses, injuries and deaths every year. When a physician or medical professional treats a patient, he or she is expected to maintain a certain level of skill and prudence to ensure his or her patients' safety. If a doctor fails to live up to these standards and the result is an injury, death or another form of damage, he or she can be held liable for negligence.
Health care professionals are required to maintain a standard level of care. If a doctor fails to maintain that standard and a patient dies or is injured he or she may be liable for medical malpractice.
Hospital Mistakes
Common hospital mistakes include:
Another error that people do not hear about as much involves hospital fires. If machinery or other surgical equipment malfunctions, fires can start. These fires can be extremely dangerous and further injure the patient. Many doctors and medical staff are not properly trained on what to do if a fire should start. This leads to panic and further injury that should have been avoided.
Consult with Our Attorneys
Contact us to begin your Free consultation with our medically-trained attorneys.
Types of Hospital Mistakes Injuries