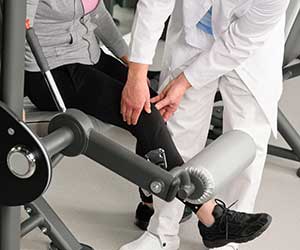 On the road to recovery, you sought help from a physical therapist. Instead of physical therapy making you better, you've suffered serious harm. If this sounds familiar, you should know that you don't need to accept this outcome.
At Cirignani, Heller & Harman, we help our clients get their lives back to "normal" following medical malpractice. The consequences of malpractice can be devastating; we spend our time focusing on your case so that you can spend your time focusing on getting better and getting life back to "normal."
We offer free consultations, so contact us to meet with an experienced physical therapy malpractice lawyer, discuss your case and get our initial thoughts.
How Physical Therapy Can Be Considered Medical Malpractice
If a physical therapist or other healthcare professional provides care that is not in keeping with the standards of the medical community and the patient suffers painful, costly injuries as a result, the patient has every right to consider filing a medical malpractice claim.
These cases typically involve some sort of mistake or negligence by a healthcare provider. Sadly, a patient who does not file a claim must deal with the fallout of the healthcare provider's negligence. They might live in pain, struggle in their work and face costly medical care.
Medical malpractice claims offer patients the chance to get payment for the costs they encounter as a result of their injuries.
Find Out Whether You Have a Claim Against a Physical Therapist
It's challenging in some cases to know exactly why you're injured. If you're in physical therapy, you've likely been coping with an existing injury. However, physical therapy, though challenging and sometimes painful, should lead to progress. If you've noticed that you're regressing or if there was a single incident that clearly resulted in an injury, these may be signs that physical therapy has either worsened your condition or caused entirely new problems.
To know whether your situation is grounds for a medical malpractice claim, consider consulting an attorney who handles medical malpractice cases. At Cirignani, Heller & Harman, we focus exclusively on medical malpractice, and we've handled numerous different types of cases. We offer free consultations so we can help you better understand your legal options.
Contact Cirignani, Heller & Harman today to schedule your free case evaluation.
Causes of Physical Therapy-Related Injuries
Physical therapists treat patients that are often in a delicate physical state. If a therapist is not mindful of a patient's condition and fails to prescribe proper exercises or ignores clear signs of pain, serious injury can result.
A physical therapist might cause injuries by…
Failing to listen to a patient's complaints of pain
Hyperextending a patient's body parts, causing strains or fractures
Misuse of therapy equipment
Using broken equipment
Instructing the patient to do unsafe exercises
Mishandling or dropping a patient during care
Failing to inform the patient of risks of therapy.
These are just a few of many examples. Each case that a physical therapist encounters is unique to the patient's specific injuries and requirements. Thus, the care they provide should be based on the unique needs of the patient. Many things can go wrong when an already injured patient's health is on the line.
Common Injuries in Physical Therapy Medical Malpractice Claims
Fractures
Head or neck injuries
Back or spinal cord injuries
Extensive soft tissue damage
Strokes or heart attacks
Concussions
Cuts or wounds
Internal injuries or organ damage.
Who is At Fault for Your Physical Therapy Injury?
In many cases, a physical therapist is directly responsible for the harm they've caused. If faulty equipment is to blame, the manufacturer of the equipment might also bear responsibility for injuries caused. If the doctor that ordered physical therapy did so without being mindful of how that therapy might worsen the patient's condition, the doctor might also be held accountable for any injuries that result from the treatment.

As an injured patient, the task of determining fault does not fall on you. Your attorney will investigate your case to find out who should be held responsible. At Cirignani, Heller & Harman, our physical therapy malpractice attorneys have years of experience helping our clients get payment that reflects the challenges they're facing. Contact us today to get started.
Contact Our Physical Therapy Malpractice Attorneys
Injured patients aren't looking for a miracle cure. They don't want a handout. They want accountability from their healthcare providers. Most of all, they simply want to get things back to "normal," or as close to normal as possible.
Our priority at Cirignani, Heller & Harman is to help our clients get their lives back. We use our network of professionals and our own skill and experience to achieve that goal. We understand the value of normalcy, and we fight for our clients to make sure they are given every opportunity to reclaim their lives.
Our firm wants to help. We encourage you to contact Cirignani, Heller & Harman today to schedule a free, no-obligation consultation.