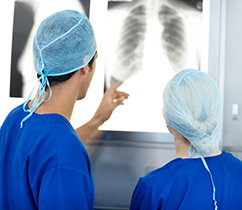 After a back injury where an infection is present, an abscess can form. This abscess is deeper than that of the initial injury and, if not treated properly, can lead to septicemia, a serious, potentially fatal infection.
If you believe your medical professional has misdiagnosed or failed to diagnose an abscess that has led to septicemia, you may have a medical malpractice claim.
Our Failure to Find Abscesses Leading to Septicemia Attorneys Are Board Certified Doctors
At Cirignani Heller & Harman, LLP, we are a unique law firm with both a legal and a medical background — our Chicago, Illinois, lawyers include a certified respiratory therapist and two licensed physicians. As a result, we cannot be manipulated by insurance companies, and we don't allow our clients to be manipulated either. We always take the time to clarify the legal process to our clients and to provide detailed medical explanations. When faced with difficult matters, clients need reassurance that their cases are in skilled and compassionate hands.
Timing is absolutely critical in infections. If symptoms are overlooked and antibiotics not prescribed, the infection will continue to grow and overwhelm the immune system. Once septicemia spreads into the bloodstream, the odds are drastically reduced that doctors may be able to save a person's life.
As a first step, we will carefully review our clients' medical records in-house to determine the critical steps the treating physicians may have failed to take. We will also examine our clients' medical histories to understand if they had a serious illness that should have prompted medical professionals to respond with greater diligence.
Contact the Misdiagnosis of Abscesses Lawyers at Cirignani Heller & Harman, LLP, for a Free Consultation
Contact us to learn more about our firm, we offer free initial consultations and contingency fees. You may also call (312) 346-8700.