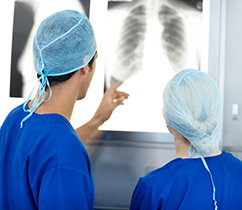 The risk factors for heart attacks are well-known in the medical industry. Obesity, smoking, stress, high blood pressure, diabetes and genetic predisposition are just some of the major risk factors that place patients at an increased risk for myocardial infarction. When doctors overlook these key risk factors and other symptoms commonly associated with cardiac distress, they may be placing the life of the patient at risk.
At Cirignani Heller & Harman LLP, our attorneys have more than twenty years of experience holding doctors and nurses accountable for medical malpractice throughout Chicagoland, Illinois. We prepare compelling cases and devote significant resources to establishing fault. We can help you obtain full compensation for heart problems caused by medical negligence.
In-Depth Medical Malpractice Background
We have a comprehensive understanding of medicine because our law firm includes two licensed physicians, as well as a certified respiratory therapist. This unique background provides us with the ability to carefully evaluate cases in-house, determining if doctors or nurses failed to take the appropriate measures to diagnose and/or treat clients having a heart attack.
Our attorneys have successfully represented dozens of clients who went to an emergency room complaining of chest pains only to be turned away. In these situations, medical professionals sometimes overlook both risk factors and obvious symptoms of a heart attack, including:
Arm pain
Chest pain
Shoulder pain
Jaw pain
Shortness of breath
Sweating
In emergency settings, doctors sometimes jump to the conclusion that chest pain is not cardiac when they learn that a patient has recently been physically active. They may also assume that chest discomfort is indigestion when there has been a recent large meal. Most of the time, a doctor can always identify something in a patient's medical history to blame for their chest discomfort – often a fatal mistake. We have extensive experience demonstrating that doctors and nurses have failed to abide by the applicable standards of care in these situations.
Integrity • Compassion • Tenacity
Different from most law firms, we have lawyers who are also licensed medical professionals. This provides us with the opportunity to cost-effectively investigate each case. We begin our extensive preparations from the moment you retain our services.
Contact us today to schedule a free consultation — our attorneys will provide you with dedicated advocacy and comprehensive service.
Free Case Review by One of Our Doctor Attorneys